RCA drc6272 Review
Portable Car DVD Player For Kids


RCA DRC6272 Twin Mobile DVD Players ...
RCA drc6272 Specifications:
Product Features
Twin mobile DVD players with seven-inch LCD displays
Play two different DVDs or watch the same one on both screens
Built-in speaker on both units; AV and headphone jacks
Plays DVDs, CDs and JPGs
Includes two AC power adapters, two remote controls, two car power adapters, and headrest mounting kits
Technical Details
Brand Name: RCA
Model: DRC6272
Display Size: 7.000 inches
Width: 8.0 inches
Height: 4.8 inches
Weight: 5.45 pounds
Reasons to choose the RCA drc6272
Two 7" LCD screen mobile DVD players
Headrest mounting kits
Two remote controls
AV cable
Car power adapter which powers both players
Additional car power adapter for use in multiple vehicles
Two AC power adapters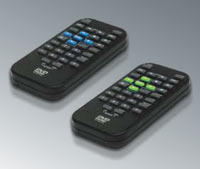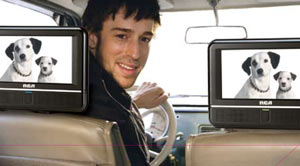 It Plays: It Connects to:

DVDs Game Consoles
CDs TVs
JPGs DVD Players
The DRC6272 Twin Mobile DVD players by RCA make long road trips fun and peaceful for all. The 7 inch screens coupled with the headphone jack located on each player allows a personal theater experience.
Choose to watch your own DVD or the same DVD at the flip of a switch. Also choose video games or connect to TV at home or hotel.
There are velcro straps for attaching each player to the back of a car head rest and each player has a stand for table top viewing.
Separate remotes keep kids safely buckled up

Color coded remotes make for easy ID, one does not affect the other

Headphone jacks allow for private listening.(not included)

If one goes down you have another as backup

Sets up easily in minutes

2 different movies can be played at the same time

Comes with 2 adapters so you can put them in separate cars

Comes with power adapter so you can use in hotel/home

Comes with a split charger power cord so only one outlet is needed per set.
Tips for the RCA drc6272 Twin Mobile DVD Players
If you have tapered head rests you will need to loop it around the metal head rest posts instead of the head rest itself. The strap is just one long strip of velcro that works but not overly secure - Or check out below, a case with hanging straps.

If your back seat travelers are old enough to operate a remote and you don't make frequent stops, you will like this model as it is a good value.

To prevent losing your remotes add a little piece of velcro to both the remotes and players or back of seat and attach when not using.

Headphones are a separate purchase but completely worth it. see these for kids:
RCA DRC6272 Twin Mobile DVD Players ...
also see article for Car Organizing Ideas